BULK PACKING WITH SHRINK WRAP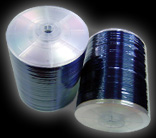 | | | | | |
| --- | --- | --- | --- | --- |
| Qty/Spindle | Spindle/Ctn | Qty/Ctn | N.W./Ctn | G.W./Ctn |
| 100 pcs | 6 spindles | 600 pcs | 9 kgs | 10 kgs |
Carton size: 39(L) x 26.3(W) x 16.2(H) cm = 0.017 cbm
1 Pallet: 84 cartons/pallet = 50,400 pcs/pallet
20Ft Container: 504,000 pcs (10 pallets) = 840 ctns

CD-R / DVD+/-R CAKEBOXES
| | | | |
| --- | --- | --- | --- |
| | | | |
| Qty/Box | 25 pcs | 50 pcs | 100 pcs |
| Box/Ctn | 24 boxes | 12 boxes | 6 boxes |
| Qty/Ctn | 600 pcs | 600 pcs | 600 pcs |
| G.W./Ctn | 13.2 kgs | 12.1 kgs | 11.7 kgs |
| Ctn size | 45.3 x 30.4 x 22.8 cm | 45.3 x 30.4 x 20.3 cm | 45.3 x 30.4 x 18.6 cm |
| Pallet | 72 ctn / 43,200 pcs | 80 ctn / 48,000 pcs | 88 ctn / 52,000 pcs |
| 20Ft Container (10 pallet) | 720 ctn / 432,000 pcs | 800 ctn / 480,000 pcs | 880 ctn / 520,000 pcs |
---
DVD+/-R SPECIFICATIONS
| | | | |
| --- | --- | --- | --- |
| Disc Type | 4.7G | 1.4G | 9.4G |
| Disc Diameter | 120mm | 80mm | 120mm (Double Sides) |
| Data Capacity | 4.7 GByte (4.37GB) | 1.46GByte (1.36GB) | 9.4GByte (8.74GB) |
| | |
| --- | --- |
| Disc Type | Consumer General Purpose |
| Recording Speed | 1x - 16x |
| Dye Type | Cyanine or Azo |
| Recording Wavelengh | 650nm Circular Polarization |
| Numerical Aperture | 0.6 +/- 0.01 |
| Scanning Velocity at 1x (for DVD+R only) | 3.49 +/- 5m/s (for DVD+R only) |
| Read Power | <1mW |
| Shelf Life | 50 Years (Stored at -20 -50C, <50%RH) |
| DVD-R Book Version | 2.0 General |
| Stacking Ring | Single Sides |
---
DVD+/-R TYPICAL TEST DATA
| | | |
| --- | --- | --- |
| PARAMETER | STANDARD | LEX TYPICAL DATA |
| Jitter DC | <8% | <8% |
| PI8ECC | <280 | <20 |
| I14M (I14/I14H) | >0.60 | >0.65 |
| Optimum write power 1x | ~8.0 - 10.0mW, 650nm | ~9mW +/- 10% |
| Optimum write power 2x | ~14.0 - 16.0mW, 650nm | ~10mW +/- 10% |
| Optimum write power 4x | ~18.0 - 20.0mW, 650nm | ~12mW +/- 10% |
| Optimum write power 8x | ~20.0 - 25.0mW, 650nm | ~13mW +/- 10% |
| Optimum write power 16x | ~28.0 - 35.0mW, 650nm | ~18mW +/- 10% |
| Birefringence | .+/- 100nm | .+/- 30nm |
| Tangential Deviation | <+/- 0.30 | <+/- 0.1 |
| Radial Deviation | <+/- 0.8 | <+/- 0.15 |
| Reflectivity | 45 - 85% | 75% +/- 5% |
| Thickness of Disc | 1.20 + 0.30mm / -0.06mm | 1.20 + 0.1mm / -0.06mm |
---
DISC LABEL PRINTING
CDs are printed with the label Information directly onto the disc. Our standard prices allow for 2 colours printing. You must supply us with colour separated films for this, together with instructions on on which parts of the artwork are to be in which colour, and what the precise colours are (quote the Pantone colour references).
ˇDSilkscreen Printing Specification


ˇDOffset Printing Specification

| | |
| --- | --- |
| All copyright documents should be submitted. | |
---
DVD-R
DVD-R is a non-rewriteable format and it is compatible with about 93% of all DVD Players and most DVD-ROMs. Standard 120mm ( 60 - 120min. / 4.7GB single sided )
ˇDDVD-R 2x, 4x, 8x, 16x, 4.7 GB
ˇDOur Low Power Energy mechanism is best fit for duplicator tower

---
DVD+R
DVD+R is a non-rewritable format and it is compatible with about 88% of all DVD Players and most DVD-ROMs. Standard 120mm ( 60~120min. / 4.7GB single sided )
ˇDDVD+R 2x, 4x, 8x, 16x, 4.7 GB
ˇDOur Low Power Energy mechanism is best fit for duplicator tower

---
CD-R
CD-Recordable, write once-read many disc specified by Orange Book Part II using a pre-stamped, wobbled groove to guide a write laser that irreversibly changes regions of a dye polymer layer to an optically absorbing state. A special drive is required for writing.
ˇDCD-R (12cm) 52x, 700MB, 80 min Silver/Silver and Silver / Light-Blue
ˇDCD-R (8cm) 52x, 200MB, 23 min Silver/Silver and Silver / Light-Blue

---
DVD
DVD (Digital Versatile Disc) heralds a new era of entertainment. For the first time, high-quality digital video as well as surround sound can be delivered to the consumer on a single interactive compact disc. While a DVD disc may be straight-forward in its application, preparing content for DVD as well as authoring and layout - premastering - of 4.7 gigabytes of video and sound, is a profoundly complex process. Much like computer-aided design for circuit board manufacturing which requires sophisticated tools for routing intricate signals on circuit cards, DVD premastering requires tools for encoding and layout of complex data structures which are compacted onto a single-sided 5.25 inch disc.
ˇDDVD-5 stores 4.7 Giga-Bytes and data on 1 side and 1 layer
ˇDDVD-10 stores 9.4 Giga-Bytes and 2 sides and 1 layer

---
VCD
VIDEO-CD is format for films / video on CD. Many film / video titles have now been recorded on VIDEO-CD. The VIDEO-CD is also widely use for educational and advertising purposes. The format can be played on VIDEO-CD players, CD-I players and personal computers equipped with a VIDEO-CD card.

---
AUDIO CD
CD-DA stands for Compact Disc Digital Audio. This format can store up to 74 minutes audio.
It is now the recognized format for recording music.

---
CD-ROM
CD-ROM stands for Compact Disc Read Only Memory. This format can store up to 650 megabytes of information, equivalent to a quarter-million typewritten A4 pages or one ton of paper. The format is primarily designed for computer users, offering a convenient and dependable way to access large volumes of information. a few examples of its application are reference books complete with audiovisual illustrations, company related databases, comprehensive manuals and multimedia. The format is also suitable for security copying and filing of information where permanent record is essential. Software that formerly needed numerous floppy-discs to install can now often be packed into a single CD-ROM, which speeds the process of installation. The format requires CD-ROM reader connected to a PC, MACINTOSH or UNIX computer

---